Fitbit Sense 2 is an innovative health and fitness smartwatch beyond just tracking physical activity. Packed with advanced features and cutting-edge technology, it is designed to help you better manage stress, track your fitness goals, monitor your heart health, improve sleep quality, and lead a healthier lifestyle. Let's explore the key features of the Fitbit Sense 2 and how it can benefit you.
Design and Display
Fitbit Sense 2 boasts a modern, sleek design for formal and casual wear. It features a 1.69-inch AMOLED display, offering vibrant colors and crisp visuals. The screen is touch-responsive and easy to navigate, allowing you to access various features and metrics effortlessly.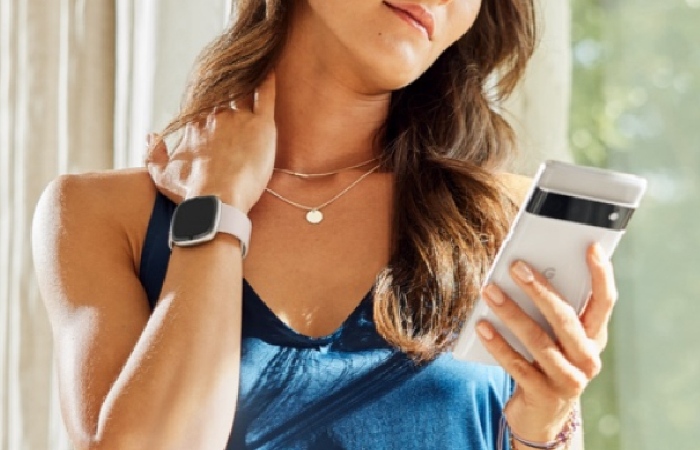 Advanced Stress Management and Health Insights
One of the standout features of the Fitbit Sense 2 is its ability to detect and manage stress. Equipped with Continuous Electrodermal Activity (cEDA) sensors, the smartwatch provides all-day stress detection. It assesses your stress levels and offers a daily Stress Management Score, giving you valuable insights into your stress patterns and helping you develop strategies to manage stress effectively.
The Fitbit Sense 2 also includes an ECG app that allows you to assess your heart's electrical activity, helping detect atrial fibrillation (AFib) and providing irregular heart rhythm notifications. With SpO2 monitoring, you can track your blood oxygen levels, which can be particularly useful during workouts or when adjusting to high altitudes.
Sleep Tracking and Personalized Insights
Understanding and improving your sleep quality is essential for your overall well-being. It offers personalized sleep profiles, which provide insights into your sleep stages, sleep score, and sleep patterns. With a smart wake alarm and a do not disturb mode, you can create a sleep routine tailored to your needs, helping you awaken refreshed and ready for the day ahead.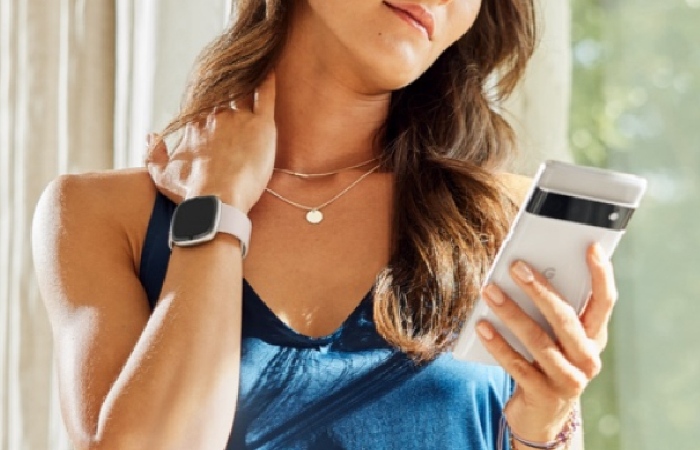 Enhanced Activity Tracking and Workout Intensity
The Fitbit Sense 2 is designed to support your fitness journey with a built-in GPS and a workout intensity map. Whether running, cycling, or engaging in various exercise modes, the smartwatch tracks your activity, heart rate, and Active Zone Minutes. With a Daily Readiness Score, you can gauge your readiness for physical activity based on factors like heart rate variability, recent activity, and sleep quality.
Convenience and Connectivity
It offers several convenient features to make your daily life easier. You can receive on-wrist Bluetooth calls, texts, and phone notifications, allowing you to stay connected without reaching for your phone. Customizable clock faces let you personalize your smartwatch to match your style, while Fitbit Pay enables convenient contactless payments. Integrating Amazon Alexa and Google Wallet & Maps provides additional hands-free assistance and navigation capabilities.
Extended Battery Life and Premium Membership
With a battery life of up to 6+ days, the Fitbit Sense 2 ensures you can rely on it for extended periods without frequent recharging. Additionally, the smartwatch comes with a 6-month Premium membership, offering personalized insights, advanced analytics, and more. This membership provides a comprehensive experience to help you maximize your Fitbit Sense 2 (available for new and returning Premium users).
Fitbit Premium Membership
With the purchase of Fitbit Sense 2, you gain access to a 6-month Premium membership. Fitbit Premium offers personalized insights, advanced analytics, and additional features to help you make the most of your health and fitness journey. This membership provides a comprehensive experience to support and motivate you in reaching your goals.
Conclusion
Fitbit Sense 2 is a feature-rich smartwatch that goes beyond basic fitness tracking. With its stress management tools, heart health monitoring, sleep tracking capabilities, and comprehensive activity tracking. It empowers you to prioritize your well-being and achieve your fitness goals. It is a valuable companion on the journey to a healthier and more balanced lifestyle. Embrace the power of the Fitbit Sense 2 and leverage its insights and features to optimize your overall health and well-being.