In today's Kicksta review, we're taking a closer look at one of the more popular solutions for automating Instagram Growth. 
Kicksta is a platform designed to help businesses improve their presence on Instagram, reach new prospects, and increase revenue.
After all, while Instagram is one of the most popular social media platforms for businesses and brands looking to reach new consumers, it can be difficult for new brands to excel on the channel.
There are countless vendors and businesses (over 200 million) already connecting with customers on Instagram, leading to heavy competition for companies. Plus, the channel's algorithm tends to prioritize posts from organizations with higher engagement and more followers.
Solutions like Kicksta are designed to accelerate the growth process for businesses, help them automate their engagement strategy, and ensure they can generate a high ROI from marketing campaigns. 
Let's explore how it all works.
What's An Instagram Growth Service?
Kicksta is an Instagram Growth service. 
In other words, it's a solution offered by a third-party provider to help companies expand their social media reach. There are various different kinds of Instagram Growth service available today, using numerous strategies to promote brands.
Some solutions can comment on posts and message potential followers on your behalf using automated bots, others "follow" accounts on your behalf, to encourage them to follow you in return. 
Kicksta's service leverages an AI-enhanced "like" method, which involves liking the posts of various targeted accounts to improve brand awareness and encourage engagement.
The primary benefit of a growth service is it allows businesses to essentially automate the development of their brand on Instagram, so they can focus on other tasks. 
With an automated engagement strategy, businesses have more time to focus on developing engaging content for multi-channel marketing strategies, serving customers, and boosting their reputation.
How Does Kicksta Work?
One of the unique things about Kicksta is its approach to encouraging Instagram growth. As mentioned above, the company uses the "like" method to increase brand reach and boost engagement. This strategy is often considered more reliable, and somewhat safer than other growth strategies, as it doesn't attract any algorithm issues or penalties from Instagram.
Kicksta also has its own proprietary AI algorithm, designed to ensure companies are only connecting with the most valuable followers. When companies sign up for the service, they can choose target accounts to show the AI system what kind of followers they want to attract. 
The tool then automatically likes a handful of posts from each of the followers connected to that account, encouraging the users to visit the brand's profile and follow them.
Kicksta offers access to a valuable range of promotional tools and resources, including a micro influencer network which can help businesses to improve their credibility or reputation in their industry. 
The company doesn't leverage any "risky" growth tactics, like selling fake followers, spamming posts with AI-generated comments, or following and unfollowing accounts.
There are even plans available from Kicksta which allow companies to further refine the followers they attract, with hashtags, locations, and blacklists.
Kicksta vs. Other Instagram Growth Services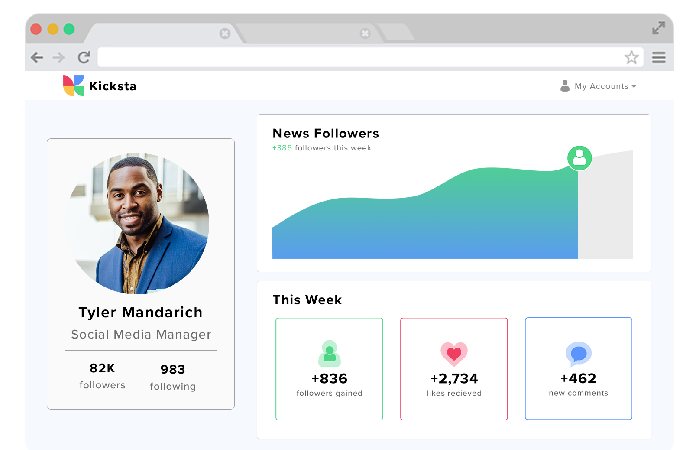 During our Kicksta review, we discovered a few key factors which separate the solution from other growth services. First and foremost, the company has its own proprietary AI technology, as well as a host of targeting tools designed to improve the quality of the prospects customers attract. The ability to target specific accounts and followers ensures you're more likely to engage valuable visitors.
Kicksta's growth methods revolve heavily around safe practices which won't harm your reputation on Instagram or expose you to any issues with the platform's terms and conditions. 
Users on premium plans can leverage advanced targeting tools and blacklists to home in on relevant followers with an existing interest in their industry or brand. Additionally, there are built-in tracking and analytics tools available to help companies make the most out of their campaigns.
Kicksta also takes a careful approach to customer service and support, offering exceptional guidance to customers on every plan with exclusive onboarding courses. There's a 7-day money-back guarantee for peace of mind, and no contracts to tie you into any long-term services.
Additionally, Kicksta provides companies with access to additional tools to strengthen their growth speed, such as access to global micro influencers, hashtag generators, and an engagement rate calculator. 
The company has earned countless positive reviews from customers across a range of industries, praising the simplicity and efficacy of the service. Reviewers love the responsivity of the team, targeted focus of the algorithm, and the straightforward Kicksta user interfaces.
Kicksta Pricing
A full Kicksta review wouldn't be complete with a closer look at pricing options. 
Currently, Kicksta offers 4 pricing packages, tailored to the needs of different customers. All of the plans are offered on a pay-as-you-go basis, with no long-term contracts. Additionally, there's a 7-day money-back guarantee available if you're not entirely satisfied with the service.
The options include:
Promotions Only:

$49 per month: The Promotions Only plan allows companies to leverage Kicksta's micro-influencer network and promotional tools for a guaranteed 400 followers per month. The package comes with exclusive onboarding courses, and you don't need to share any Instagram logins to get started. However, Kicksta's automation and targeting features aren't included in this package.

Standard:

$59 per month: The Standard plan provides businesses with access to Kicksta's powerful suit of automation and targeting tools. It includes exclusive onboarding courses, moderate growth speeds, and the option to target up to 10 Instagram accounts.

Premium:

$129 per month: The Premium plan includes all of the features of the Standard package, with maximum growth speed, and up to 40 Instagram targets. You'll also be able to leverage Kicksta's advanced targeting and filtering features, which allow you to pinpoint followers based on hashtags and location. There's also VIP support, and blacklisting.

Kicksta Pro:

$189 per month: Kicksta Pro includes all of the features of the Premium Plan, plus a range of monthly services for promotions and growth. You'll have access to global influencers to diversify your audience, and you're guaranteed at least 1200 new followers per month on this plan.
Kicksta customers can also purchase add-on packages of influencer promotions to expand their reach. Packages for 1200 followers cost $99, while 2400 followers will cost $189.
Is Instagram An Effective Tool For Automating Instagram Growth?
Hopefully, this Kicksta review has given you an insight into what you can expect from the Instagram Growth service. 
If you're looking for a convenient and effective way to develop your reach on one of the most popular social media platforms, Kicksta could be a great choice.
The safe and reliable growth engine supports all kinds of business leaders and entrepreneurs, with proprietary AI algorithms, excellent targeting capabilities, and micro-influencer networks. Kicksta will automate the work of engaging and growing your audience for you, so you can focus on creating new content and delighting your customers.
With no spammy activities, or dangerous strategies, Instagram gives companies a risk-free way to make the most out of their Instagram campaigns.